myVisionPOD provides Eyeglass Prescription
NO MEDICAL SERVICES ARE PROVIDED.
Your myVisionPOD visit is not a substitute for an examination of your eye health. Today, we exclusively provide refractive services or eyeglass prescriptions. This test is simply a process to create the power formulas for your eyeglasses and we do not examine or evaluate the health of your eye – you'll need to visit your eye doctor for this part of the examination and we will provide you with a list of local eye doctors along with your prescription..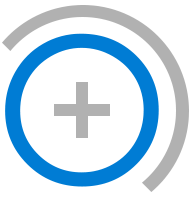 Your vision tests at myVisionPOD are nearly identical to the tests that you received from your eye doctor in the past.
We'll begin with collecting some history about your vision health except we collect this data by an electronic form before your visit. (Your traditional doctor collects this data by handing you a clipboard with some paper forms)
Next, we'll record the power formulas in your existing glasses so we will know the details of your last eyeglass prescription.
A technician will use an auto-refractor device to capture and calculate your theoretical new prescription based on the shape of your eye. This device uses digital imagery to determine an 'objective' measurement of your new power formula. (Same technique used by a traditional doctor)
Finally, we test your theoretical new prescription (previous) step by allowing you to view an eyechart with the new power formulas. Your technician will allow you to compare slight variations of the new formula by asking you to select your best vision – 'which lens is better, number one or number two?". (Same technique used by a traditional doctor)
Your vision history and test results are stored in the secure myVisionPOD where a licensed eye doctor will review the complete 'refraction package' and use this data to create a new eyeglass prescription. Your new eyeglass prescription will be scanned and uploaded to your myVisionPOD account where you may purchase online eyewear from Eyeweb or any other retailer.
We want to make things smarter, simpler, and within everyone's reach. We are myVisionPOD.
Contact us to learn more about our solutions.